Can I use my prescription for glasses to order contact lenses?
No, although your prescription for contact lenses and prescription glasses may look the same, they usually differ. You should have your eyesight checked for the use of contact lenses and for the use of glasses separately.
What is the best contact lens for me?
Your trusted optometrist or ophthalmologist will recommend the most suitable lens for you. This professional will assess aspects such as the use that you will make of that lens, your prescription or tear among others, so you can choose the most appropriate type.
How often do I have to buy my contact lenses?
The frequency of purchase of your contact lenses will depend on the indications that your optometrist or ophthalmologist suggests.
How can I know the duration of the lenses you sell?
To know all the details of our lenses, you can click on the "More information" section that you will see below the product photo.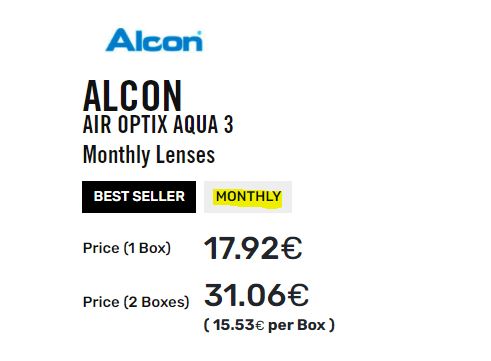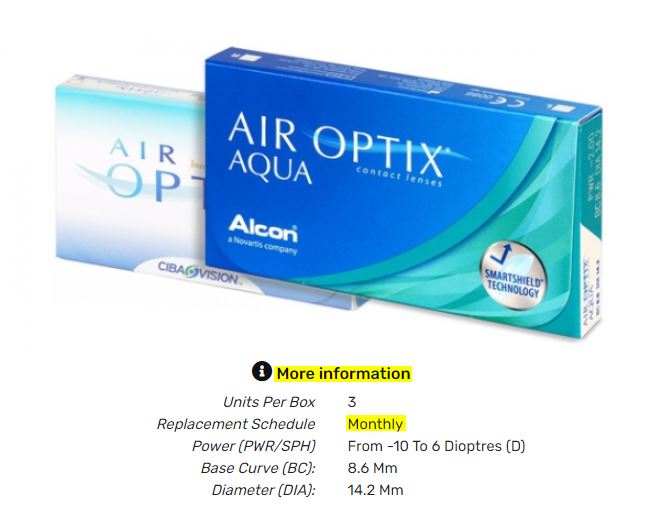 How can I get a new prescription for my contact lenses?
By "a new prescription" we mean to get a change in the usual lenses, either material, replacement or prescription. You would need your prescription to be checked by your optometrist or ophthalmologist.
Do my contact lenses need any specific maintenance?
The type of maintenance for your lenses will be recommended by your optometrist or ophthalmologist. Usually a unique solution is used but there may always be cases in which other cleaning supplements are necessary, as well as a more aggressive disinfection system such as peroxide.
What is the BC and the DIA?
These are values ​​that you will find in your prescription or in the original packaging of your contact lenses.
The BC, BK or RO is the base curve or radius of curvature of the contact lens. It depends on the curvature of the cornea. It is a value that is usually between 6.50 and 10.50 mm.
What is spherical power?
It is the value of your prescription, whether it is myopia or hyperopia. It is represented as SPH, PWR, P, DPT or F'V.
For toric lenses, which correct astigmatism, we will also need to know the value of the cylinder, Cyl or Zyl, and the axis, Axis, AX, A or T.
In multifocal lenses you must also let us know the value of the addition, Add or Ad.
Do you sell unique solutions for contact lenses?
Yes, on our website you will see a section of care products where you can find unique solutions and cleaning liquids, as well as drops and other products for the health of your eyes.