Detect visual defects in children. What should I do?
The symptoms that indicate that a child does not see correctly may vary depending on the age of the child. Follow this guide to know how to differentiate them:
- From 0 to 2 years old: It is not easy to detect these problems in such small children. You will notice, for example, that the baby does not make eye contact with you or that it does not react to visual stimuli. Also note if their eyes are cloudy or yellowish, inflamed or watery, or if they can not fix their eyes.
- From 3 to 5 years old: At these ages they start to learn to read and write, so you can see if they get too close to the books or the blackboard. Watch also if they rub their eyes a lot or even if they have balance problems.
- From 6 years and up: In older children it is easier to detect visual problems because the indicators are clearer: difficulty reading and writing, difficulty maintaining attention, headaches, dizziness or even nausea.
If you notice any of these symptoms in your child, do not hesitate to make an appointment with the ophthalmologist for a review.
How to know if my child needs glasses
The only way to be sure if your child needs glasses is to take them to the ophthalmologist for a visual examination. The ophthalmologist will give you the prescription to have a pair of glasses in case the child has any of these problems that are essential to correct:
- Hyperopia (the child does not see up close well): It is the most frequent case in young children; it is not a problem because it usually disappears with the development of the eye.
- Myopia (the child does not see well far): It is detected especially in children of school age who complain of not seeing the blackboard well.
- Astigmatism (blurred vision): It can occur alone or with myopia or hyperopia.
- Strabismus (deviation of an eye).
- Great difference of prescription between both eyes.
When should I take my child to the ophthalmologist
Pediatric preventive reviews are essential. The ideal is for them to be carried out by professionals specialized in ophthalmology for children. The first complete visual examination can be carried when the child is two or three years old (in case of premature birth or a family history of disease or eye defects, the first review should be done in the first year of life).
From the first review, if everything is normal, an annual check should be sufficient to control possible prescription variations.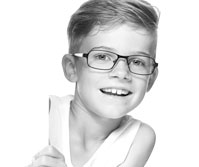 VISUAL-TIP: Your child should have their vision checked before the start of each new course to verify that they have no vision problem or that their prescription remains the same. This way you make sure that nothing will interfere with their studies.
Next: What to consider when buying children's glasses