What treatments can I apply to my lenses? What are they for?
To optimize your prescription glasses, you have the option to apply certain treatments to your lenses that will make them more resistant and will provide extra protection for your eyes. These are the treatments we offer in our online optician's shop:
1. Anti-scratch treatment.
2. Anti-reflective treatment.
3. UV filter.
4. Blue Light filter.
At Visual-Click you have the anti-reflective and anti-scratch treatments automatically applied on your prescription glasses for free. But how do they work exactly?
Anti-scratch treatment. Make your lenses more resistant.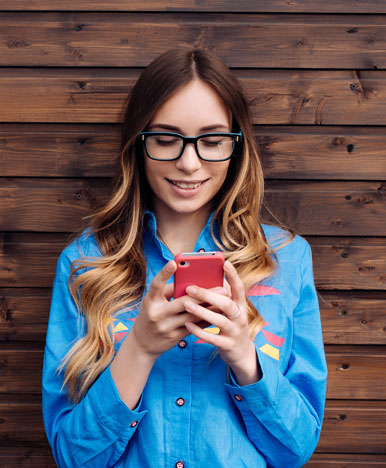 This treatment can not be lacking, especially in children's glasses. It is used to make the organic lenses more resistant to scratches typical of daily use. The higher the index of reduction of the lenses, the more important is the treatment of hardened or anti-scratch as it helps the strength and durability of your glasses.
Anti-reflective treatment. Avoid reflections wherever you go.
It is one of the indispensable treatments in any prescription lens. It is used to reduce the annoying reflections of any light source (screens, lamps, spotlights ...) and to avoid the irritation that these can cause in the eyes.
It is applied by coating the lens with a series of anti-reflective layers, which allows light to pass through the lenses instead of being reflected in them. This treatment gives the lenses greater transparency and can be applied perfectly to any prescription. In addition, it helps to achieve a more relaxed vision during activities such as driving.
UV filter. Avoid the harmful light of the sun's rays.
This filter goes hand in hand with the anti-reflective treatment, so all the Visual-Click prescription glasses include it automatically. It is clear that prescription glasses can not offer the same protection as sunglasses, but with this filter you will be providing extra protection not only to your eyes, but also to the skin of the eyelids and the area of the bags.
Blue Light Filter. Protect your eyes from LED lights.
There are studies that show that the LED lights of the digital screens of devices such as mobile phones, computers or tablets, can led to premature aging of the retina. With our filters for blue light, you will block the harmful blue light and avoid the irritation and redness that usually appear in the eyes after having spent some time in front of the computer screen or the television.
If you need more specific information about the filters and treatments for lenses that we offer in Visual-Click, you only have to contact us by the means you prefer (e-mail, telephone, chat ...). Our team will be happy to solve all your doubts and help you in whatever you need.