The final steps to prepare your prescription glasses
At Visual-Click we have a team of professional optometrists who personally take care of putting the finishing touches on your glasses so that they are perfect. Do you know the steps that are followed during the assembly of your lenses?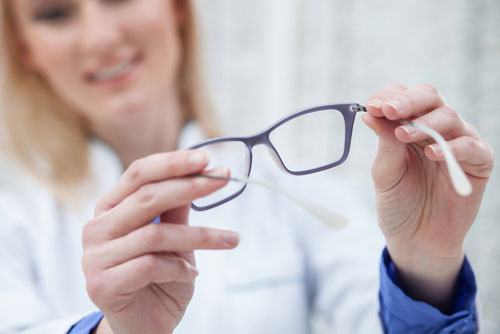 - Quality control: Firstly, the optician will check both the frame and the lenses to verify that they do not have manufacturing defects such as scratches or dirt. Usually everything is correct but in case any piece is damaged, we will immediately return it to the factory and request that the product be returned to us in perfect conditions.
- Beveling: Once it has been verified that the lenses are in perfect condition, the optician ensures that the prescription is the same as that requested by the customer. If this is the case, the lenses will have to be trimmed to give them the necessary shape to fit the frame. It is a process that requires a lot of care and precision for which a special beveling machine is used.

- Assembly: The last step is the assembly of the lenses in the frame. Like beveling, it is a manual process carried out by the optician. The assembly is not carried out in the same way in all frames, for example, acetate frames are heated to make them flexible and facilitate the incorporation of the lenses while in the case of frames with exposed glasses, the glasses are usually adjusted with some small screws.

- Cleaning: Once the glasses are assembled, the optician will clean them until they are shiny. Only then will we consider that they are ready to be delivered to you.
VISUAL-TIP: It is possible that when you put on your new glasses, even if they have the same prescription that you were already wearing, you feel a little dizzy. This sensation should disappear after two or three hours, although your eyes may need up to a couple of days to adapt perfectly. For this reason, avoid wearing them while driving until you are sure that you are 100% comfortable with them.
Anterior: Selecciona tus lentes